If you walk through your front door and find that your home feels stuffy or smells stale, you may be a good candidate for odor removal. Over the years, different odors from cooking, smoking, pets, or even the use of certain household cleaning products can get captured and stay there, making your home smell less than desirable. Odors stemming from water damage, mold damage, or fire/smoke damage can be extremely stubborn and sometimes even dangerous. Our team has helped countless home and business owners rid their properties from these odors.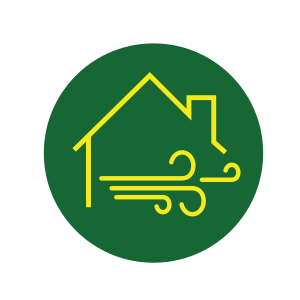 The quality of the air you breathe is vital to your health. The most effective way to improve indoor air quality is to eliminate individual sources of air pollution or to reduce their emissions. Unfortunately for us in Eastern North Carolina, high temperature and humidity levels can increase the concentrations of many pollutants. These include: fuel-burning combustion appliances (such as a wood burning stove), tobacco products, building materials and furnishings (such as deteriorated insulation, new flooring or upholstery, cabinetry or furniture), household cleaning products, and outdoor sources (pesticides, outdoor air pollution). By eliminating or reducing the emissions from these pollutants, the air quality can be much improved.
We clean and disinfect your home or business.  Help protect your family or employees from COVID-19, Flu and more.  We deep clean high-contact services and  kill 99% of viruses and bacteria with ULV fogging that uses an EPA registered disinfectant.
Pet dander, mold and mildew spores, pollen and dust mites are common allergens that can inhabit your air ducts. Even the healthiest people can develop congestion or other breathing problems if these allergens are found in your air ducts. If anyone in your house lives with allergies, asthma or other respiratory illnesses, the affects can be even greater! Dirty air ducts can also restrict the flow of air throughout your home or business, causing the HVAC system to be less efficient. With our duct clean up services, we can help your air flow to be more efficient, while reducing the amount of allergens in the air.
Your HVAC system not only regulates the temperature of your air, but it also can affect the purity of the air you breathe. This makes it essential for homeowners to make HVAC cleaning part of your routine maintenance. Keeping your system clean can protect you and your family from poor air quality and help to ensure that the air you breathe is free of pet dander, dust and other allergens. According to the US Environmental Protection Agency, indoor air quality could be two to five times more polluted than the air outside! Since most people spend on average 90% of their time inside, it's vital to keep your HVAC system clean for your health!
Storm/Hurricane Preparation
Eastern North Carolina residents are all too familiar with the heavy rains and strong winds that peak during hurricane season. We know that dealing with the aftermath of a hurricane or tornado can be extremely stressful. We offer storm and hurricane preparedness services, which help to minimize damage to your residential or commercial properties. We can also handle situations involving emergency repair and restoration in the aftermath of a storm.
From June through November, one of the scariest parts of living in Eastern North Carolina is the fear of a tropical storm, hurricane or tornado. Damage from storms and high winds, heavy rain, flooding or downed trees can wreak havoc on your home or business. Rest assured that the storm damage experts at Pro Environmental are ready around the clock to respond to your emergency. From assisting you with storm preparation to responding to any damage that may be left after the storm has passed, our experts will be with you every step of the way. We can also assist you in navigating your insurance policy to ensure you are getting the most from your coverage.